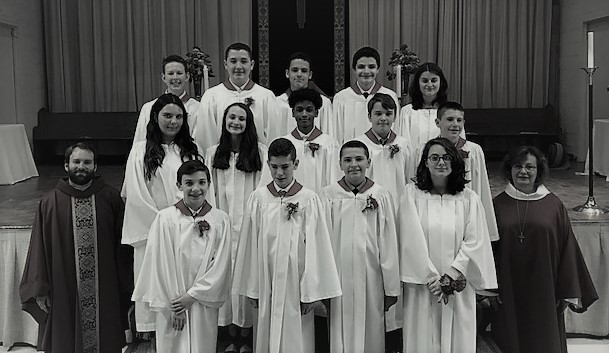 Important Confirmation Class Information

Parents and future Confirmands:

Monday June 25th

7 PM in Parish Activities Center

Parent and student information night for all 6th, 7th and 8th grade Confirmation students. Discover what your child will be learning about as he/she prepares for this holy sacrament.

Registration paperwork and yearly fee $35 will be collected at the meeting.

There will not be a meeting in the fall, please make every effort to attend.

lar ClassFebruary 2012 ScheduleWe need
 "Let your light so shine before others that they may see your good works and glorify your Father in heaven"
I CAN DO ALL THINGS THROUGH CHRIST WHO STRENGTHENS ME!
FAQ's about Confirmation at St. Luke's Church
When does Confirmation begin?
We begin confirmation in the 6th grade.
Confirmation will be a 3 year program, which means traditional students are confirmed in the 8th grade.
What if my child is older than 7th grade and has not begun yet?
Please see Pastor Weber or Christian Education.
Class meets on the 1st, 3rd and 4th Tuesday of the month, from 7-8:15 pm in the gym.
$35 registration for materials for the year.
A Bible, a notebook, a pen, a highlighter and YOU!
How can I sign up for Confirmation?